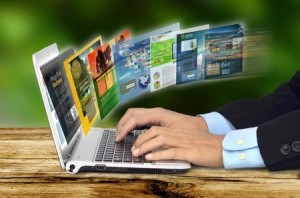 Technology is constantly evolving and some of things that made websites successful a few years ago will no longer fly in 2016. Here are few things your website will need to succeed in the new year.
More visuals
Rather than focusing on packing in as much information as possible, a better strategy for a more effective website is to make it more visual. Images and videos tend to drive in more people than any other component of a website.
Mobile friendly
Nearly everyone these days has a smartphone or a tablet. Chances are that most of your audience may even visit your site on a mobile device rather than on a desktop computer or laptop. Make sure your site incorporates responsive web design so you can reach your audience no matter what device they are using.
Call-to-actions
The most successful websites include call-to-actions, also known as CTAs. CTAs are clear messages on your site to get your audience to visit a certain web page or to perform some other action that will generate leads or sales for your company. With a CTA, you can get people to sign up for a newsletter or even download a whitepaper, while also obtaining their email addresses or any other important personal information. CTAs can also come in the forms of discounts, specials, and promotions that lead your audience to a specific webpage where they can buy products or services.
A blog with engaging content
Want a steady stream of visitors to your website? One great way to do this is by having a blog with engaging content. A blog gives people a reason to keep coming back to your site because it is a place where you can post new information about your company, products, or services. You can also share blog posts on social media channels to make sure more people see your content.
Search engine optimization
With so many websites competing for the attention of your target audience, search engine optimization (SEO) is now more important than ever before. Make sure you're using the right keywords that people would search for in relation to your website. The keywords will need to be present in all the right places. A blog is also great for SEO because it gives your website an opportunity to have engaging content and more links from other sites, which is ranked highly by search engines. This in turn will help your site appear higher in search engine results for specific keywords.
A strategic social media strategy
Social media is now more popular than ever, but you can't expect to drive large amounts of web traffic by simply posting anything to Facebook, Twitter, Pinterest, and other channels. Generating leads and converting those leads involves a strategic social media strategy that includes goals, objectives, strategies, tactics, action items, and a measurement and evaluation plan.
Each of the things above are what your website needs to succeed in 2016. A team of experienced professionals is required to make these items a success. If you have any questions about these things or about any other ways to improve your website for the new year, feel free to leave a comment. We would be glad to answer any of your questions and assist you.