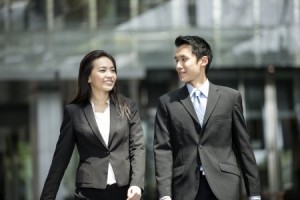 Good salespeople are hard to find. They have a certain combination of traits that give them the upper hand when selling your product. If you find someone with these traits, snatch them up and don't let them get away.  Here are some of the characteristics to look for next time you hire a salesperson:
Achievement. A good salesperson wants more than just money. They want to be at the top of their game. They want to make more sales than anyone else and they work as hard as they can to achieve this.
Zen-like focus. They're focused on one thing and one thing only: selling your product. They live and breath just to make the sale and they will do what it takes.
Loyal. They're loyal to you. They are loyal to the customer. They want to help sell your product, but they also want to make sure customers are satisfied and getting what they want. They will work hard to find the customer the perfect product. They will sit and explain the product details of every product you offer so they can find the perfect match for the customer.
These traits are important, but does it seem almost impossible to find someone that's up to snuff and willing to dedicate the time? Chances are good you have something  in your arsenal that meets all these criteria and can be the perfect salesperson for your company. Can you guess what it is? It's your website!
Your website is working hard with zen-like focus to sale your product. It is in control and should be optimal for selling product. You also can guarantee that it is loyal and won't be selling anyone else's product. And finally, since it's a machine, it can't take things personally. It will keep trudging along making sale after sale.